The full app name would be: Thoughts for Each Day of the Year According to the Daily Church Readings from the Word of God By St. Theophan the Recluse. Quite long, but very descriptive.
Displays St Theophan's short contemplation on the daily readings from the Holy Scriptures. Very handy to have in your pocket and steal some moment of the day for a small dosage of spiritual nurishment.
The texts are included, so no internet connection is required.
Since version 1.1 you can share these precious thoughts with your friends, via Email, text message, Facebook or whatever you have on your device.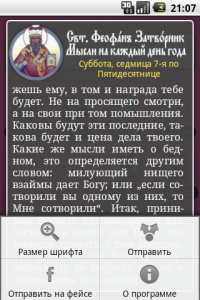 Purchase from the Android Market