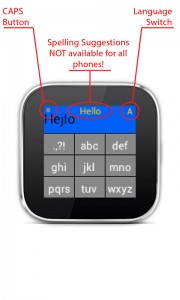 Version 3 of the popular SMS Composer for the SmartWatch introduces spelling suggestions. Note that it is not the same as T9 typing prediction. Due to that novelty, the look and the functionality of the app have changed. The caps and language switching are now activated on a button, i.e. dedicated area on the screen, because the swiping up and down actions are reserved for scrolling through the suggestions list.
Another new feature is the saving of the sent SMS messages in the default messaging app. Enjoy!

Get the app from Google Play!