Glad to introduce my favourite new feature: Senior mode. It's to be found in the "Look and feel" submenu, as it means no change in the functionality, only in the visual aspect of the app.
For me it was always a bit problematic to find my way through the letters, when I was "on the go". The latest version 2.2.0 provides two solutions for this, one is to set a custom colour for the letters of the second language, which is a very standard way, and the second way is the "Senior mode" which may seem a bit peculiar. It means that the letters of the second language are displayed LARGE, so that they are hard to miss. The numbers are gone, since we all know where they stand – as it is their position that is relevant, not their value. The Latin letters are also gone – since a) many use mostly (or only) the second language, and b) because many know the position of the Latin letters on the dialpad (for example, I wasn't aware I knew that, until now).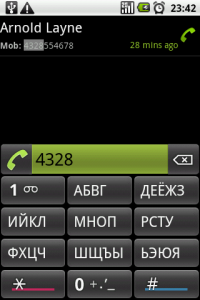 The ones that use no second language, the Latin letters will be displayed LARGE in senior mode. Very cool. But, still, I wasn't brave enough to set this option per default, you should find it in the menu and try it out.
Please note that the functionality remains the same, even when only the second language letters are displayed, the search is by two alphabets, and by numbers, of course.
Another new thing in this release is – apart from several fixes – usage of the hardware call button. Quite strange that not until several people on the 4PDA.ru forum requested this feature, did I realize that this button could be used for more than just starting the app… So now, when your search yields only one result, pressing the hard call button will call that contact. Otherwise, the number in the dial field will be dialed.