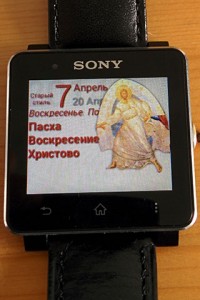 The Orthodox Calendar for SmartWatch displays the feast or the saint of the day, and on the second screen (reachable via tap on the screen) – the information about the week and the period, as well as the fasting rules of the day. This is available both in Control and Widget mode.
Also, by swiping left and right, one can browse through the days. Enough for the start, if there proves to be more interest, more could be added.
The app is in Russian only and follows the old (Julian) calendar.
Get the app for free here: https://play.google.com/store/apps/details?id=eir.synaxarion.extension.smartwatch