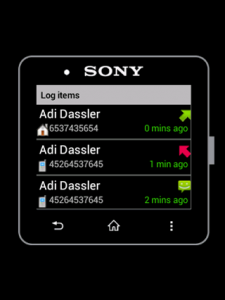 The basic functionality of browsing through the call log was not available for Sony's SmartWatch, and it was greatly missed. Until now.
With the Log for SmartWatch application you can browse the list of calls and optionally, SMS messages, and make a call to a number from the log.
The app provides two display modes: LIST and DETAIL.
MAJOR UPDATE: Since version 3.0 the Log app can substitute the default messaging app, since it displays incoming SMS notifications, and furthermore, displays the SMS messages in whole! Giving you the opportunity to respond with an SMS, in case you also have the SMS Composer app installed.

This feature is available for the SmartWatch 2.

Here's a short demo:
[youtube XG7ZSYImlTA]
Following are the brief instructions:
SWIPE LEFT <-- TO SWITCH TO DETAIL MODE SWIPE RIGHT –> TO SWITCH BACK TO LIST MODE
In LIST MODE:
LONG TAP a log entry to view the DETAILS
LONG TAP on the SHADED RIGHT SIDE to MAKE A CALL


In DETAIL MODE:
LONG TAP on the X to DELETE AN ENTRY FROM THE LOG
LONG TAP on the BOTTOM GREEN AREA to MAKE A CALL
SWIPE UP / DOWN to browse the log
SWIPE LEFT <-- TO SWITCH TO DETAIL MODE SWIPE RIGHT --> TO SWITCH BACK TO LIST MODE
Get the app from Google Play!
Changelog
v.3.2: Incoming SMS notification settings
v.3.1: Bug-fix
v.3.0: Handles incoming SMS; Displays SMS messages in whole; Reply with SMS (integration with the SMS Composer app)
v.2.0: Support for SmartWatch 2; Bug-fix (correct image sizes on Android 4.2)
v.1.6: Bug-fix
v.1.5: Name (in detailed mode) displayed in two lines if it doesn't fit in one; Vibration is optional.
v.1.4: Bug-fix
v.1.3: Bug-fix (does not crash when the log is empty).
v.1.2: Added scroll bar for the list mode; Smooth text.
v.1.1: Fix for the view refresh problem.