Announcing the Fast Dialer app for BlackBerry 10 devices!
Fast Dialer is a neat little app that makes the usage of your phone super-easy. Instantly find and dial contacts by name, number or company name, with only a few taps (statistics say average of 3 taps to find your desired contact).
The only BlackBerry 10 app that lets you search through your contacts using 2 different languages alphabets at the same time, the first one is Latin-based (and includes all European Latin-based languages by default), and the second can be one of the following:
Cyrillic (Russian, Belorussian, Ukrainian, Serbian, Bulgarian…)
Greek
Hebrew
Arabic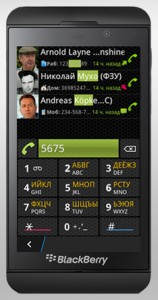 Other key features:
* Twenty nice skins.
* Convenient large letters for an easier search. (Four different display modes are available)
* Speed dialing.
* Company name is displayed (and searched by).
* Wildcard search.
* Highlighting of starred contacts.
* Sort contacts by last name
* Pauses in the dialed number.
* Landscape mode.
* Quick redial.
* Localized in Russian, Greek, Hebrew, Arabic, Polish, Czech, German, Bulgarian, Ukrainian, Belorussian, Dutch and Spanish!
Download the app from BlackBerry App World: http://appworld.blackberry.com/webstore/content/36955887