Glad to announce the release of the English version of the Orthodox Calendar for the BlackBerry PlayBook tablet!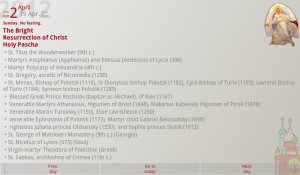 The Orthodox Calendar application for the BlackBerry PlayBook tablet, as well as my other calendar apps, includes the full calendar of feast and saints. It does not require internet connection, so it will work even if you are on places such as the Holy Mount of Athos, or on Mount Sinai.
The application is solely in English and can display both the old (Julian) and the new (Gregorian) calendar (there is a setting for the Calendar style).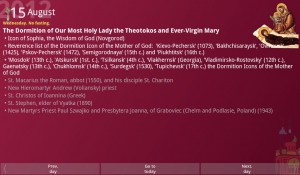 Fasting rules are also displayed, but you are kindly asked not too rely too much on them, they are accurate, but you should consult your priest for the details.
The application enables browsing the calendar and jumping to a specified date, both in the past and in the future.
Uniquely, the application enables jumping to a certain date related to the Paschal cycle of the year, both in the past and in the future!
A link to the Prologue of Ohrid of St Nikolai Velimirovic for each day is also included.
Download from BlackBerry App World: http://appworld.blackberry.com/webstore/content/79266/?lang=en