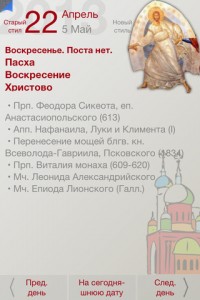 The Orthodox Calendar app is now available for free for the iPhone and iPad devices.
The app is fully in Russian, it follows the Julian Calendar, and it displays the full list of feast and saints celebrated for each day.
Also, as with the Android version of this app, it is possible to navigate through the days, both past and future, by date, or in relation to the Pascha.
Fasting rules are also displayed, but are not to be taken too literally, they are correct, but it's better to speak to your priest rather than rely on those notes only.
Download the calendar for free from Apple's App Store today!
https://itunes.apple.com/us/app/russkij-pravoslavnyj-kalendar/id578156705?ls=1&mt=8